Drum Positioners
The Drum Positioner is a unique means of manipulating drums without leaving the seat of the fork truck. The Barrel can be positioned in either the horizontal or vertical position using completely mechanical operation.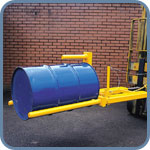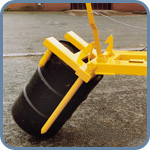 This Drum Manipulator is very versatile and can be used for transporting drums and loading and unloading vehicles or drum stands. This attachment is suitable for use with Steel, 'L' and 'XL' Ring Plastic Drums of 210 litre capacity. The special design of this attachment will allow all four drums to be removed from a pallet at the corners. Pyramid Stacking can also be achieved using this drum Positioner. Retention to the forklift is achieved through fork pockets and a retaining chain. This model is supplied as standard as 3 tine, 4 tine is also available which allows drums to be stacked in racking where clearance above the drums is minimal. Both models are available to handle 1 or 2 drums.
Model Ref
Max SWL
Drum Type
No of Drums
No of tines
Max Fork
Size
Max Fork
Spread
Weight
LLC
FDP-1
400Kg
1,2
1
1
140 x 50mm
567mm
95Kg
165mm
FDP-2
800Kg
1,2
2
3
140 x 50mm
567mm
145Kg
165mm
FDPF-1
400Kg
1,2
1
4
140 x 50mm
567mm
106Kg
165mm
FDPF-2
800Kg
1,2
2
4
140 x 50mm
567mm
167Kg
165mm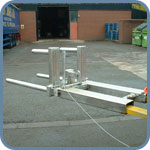 The stainless steel drum manipulator has all the features of the standard unit, but is produced entirely from Grade 304 Stainless Steel. This makes it suitable for use in Food and drink industries and some zoned environments.
Model Ref
Max SWL
Drum Type
No of Drums
No of tines
Max Fork
Size
Max Fork
Spread
Weight
LLC
FDP-1-SS
400Kg
1,2
1
3
140 x 50mm
567mm
95Kg
165mm
FDP-2-SS
800Kg
1,2
2
3
140 x 50mm
567mm
145Kg
165mm
FDPF-1-SS
400Kg
1,2
1
4
140 x 50mm
567mm
106Kg
165mm
FDPF-2-SS
800Kg
1,2
2
4
140 x 50mm
567mm
167Kg
165mm
Drum Key